Description
There has yet to be another family to enrich the Western literary canon in quite the way that the Brontë sisters did. They wrote novels whose profoundness, subversive characters and fierce emotions stirred the rigid society of Victorian England and assured the authors lasting literary fame. In honour of the bicentennials of their birthdays, we have created this Special Edition dedicated to sisters Charlotte (b. 1816), Emily (b. 1818) and Anne (b. 1820) Brontë.
The astute and compelling writing found in Jane Eyre, Wuthering Heights and The Tenant of Wildfell Hall is often treated as incongruous with the world in which the Brontës were raised. The three sisters were born into the family of a poor Anglican priest in a small Yorkshire parish, with few opportunities for them to develop their worldview. But luckily the Brontë girls and their brother, Branwell, were raised in a household in which reading was an encouraged pastime.
With each other's loving and supportive company and the stark and poetic moorlands of the parish surrounding them, their limited social background did not hamper their literary aspirations. In isolation from the rest of the world, they conjured up and wrote tales about fantasy worlds, priming themselves for their future literary endeavours. Even after the Brontë sisters had reached maturity, they would still spend evenings around the family dining table going over each other's works in progress.
For a Paperblanks release marking their 200th birthdays, we sought to find a material highlighting the special bond between the sisters. The Brontë Parsonage Museum, set up in the former home of the family, kindly provided us with a page capturing the spirit of familial harmony and creative pursuit that nourished the talents of the Brontë siblings.
Dated June 26, 1837, the page reproduced here was written by Emily and is a part of one of the "papers" that the family would write together every four years or so. It references the family members' activities during the day and their musings about the future. Emily and Anne were particularly close with each other, and the rough sketch taking up half the page is of the two seated at the table in front of the "papers" and the tin box in which they were kept.
The sombre colour scheme of this Special Edition cover echoes the dark character of the Brontës' writing. This particular purple hue is also the colour of heather, the flower blanketing the Yorkshire moors, the land that inspired some of the most moving works of British literature. It is our pleasure to honour these literary icons as the world joins to commemorate their bicentennial.
Available Sizes:
Ultra – Lined – 144 pages – Clasp
About this Design
Original Art: 

Diary entry written by Emily Brontë

Era: 

June 26, 1837

Region: 

England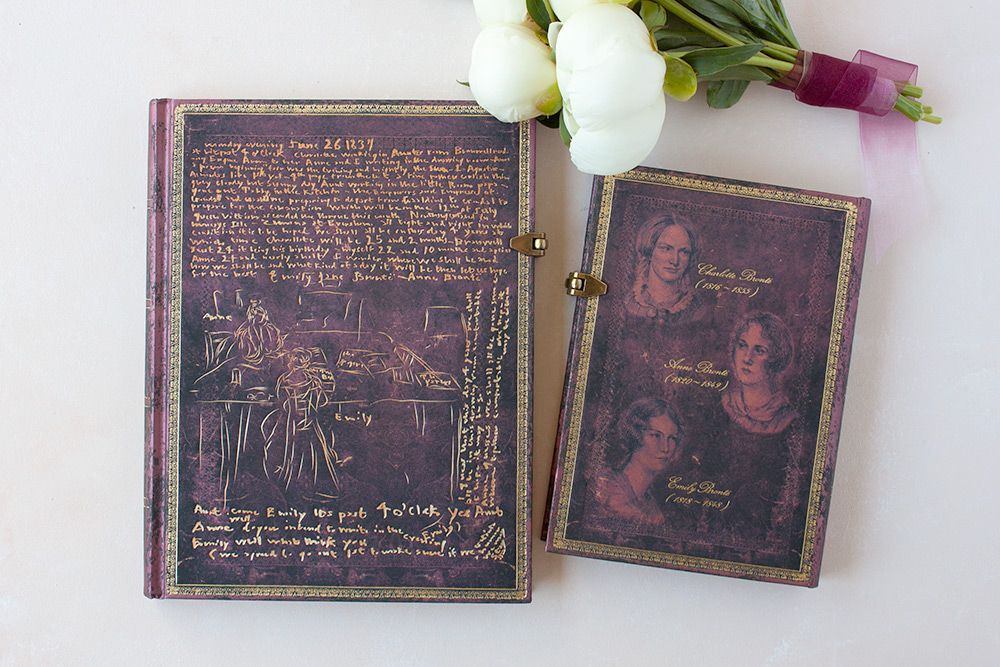 ---
Product Information
FORMAT
Ultra
Size

Width: 180mm (7″)




Height: 230mm (9″)




Depth: 24mm (1″)

INTERIOR
Lined
PAGE COUNT
144 Pages
CLOSURE
Clasp
COLOUR
Red
GSM (PAPER WEIGHT)
120
COVER
Hardcover
MORE FEATURES

Smyth sewn
Satin ribbon marker (grandes have two)
Memento pouch
Custom-designed laid paper

About These Features
MATERIALS

100% recycled binder boards
FSC-certified text paper
Threaded stitching and glue, as needed
Acid-free sustainable forest paper
Decorative printed cover paper