Description
Lang's Fairy Books
This captivating image comes from the first edition of Scottish poet and anthropologist Andrew Lang's The Olive Fairy Book. Compiled in 1907 by Lang and illustrated by Henry Justice Ford, the book was one in a twelve-part series known as Lang's Fairy Books, with each book named for the colour of its fairy.
About This Design
Original Art: First edition cover of Andrew Lang's The Olive Fairy Book
Era: 

1907

Region: 

England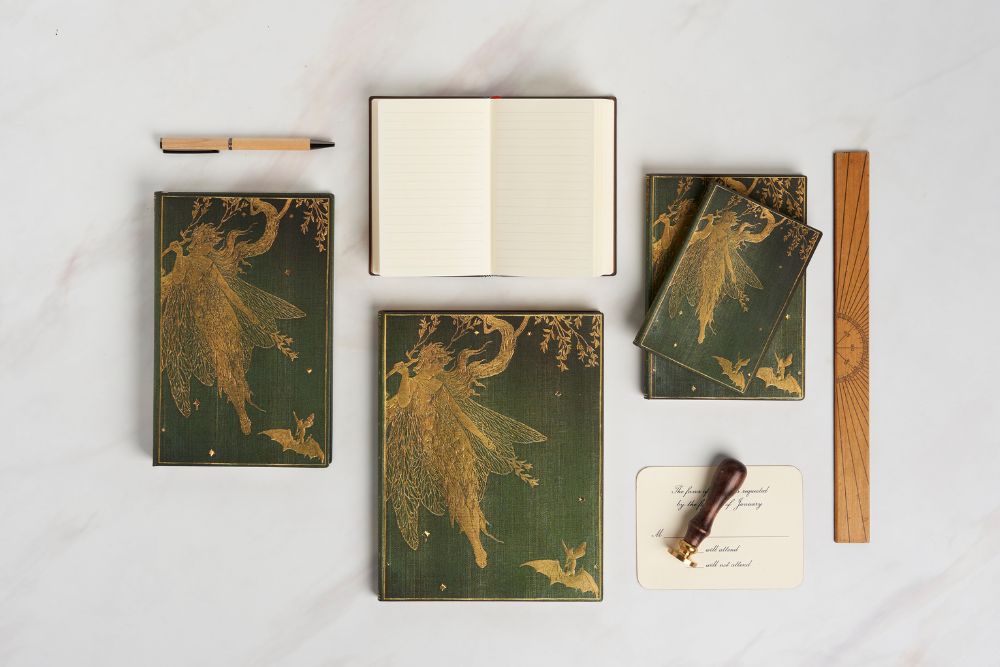 Andrew Lang (1844–1912) was a Scottish poet, novelist, literary critic and anthropologist, though he is best remembered as a collector of folk and fairy tales. Lang was greatly passionate about folklore, mythology and religion, and especially fascinated by mystical tales from other cultures.
It was this passion that led him to compile a collection of books known as Lang's Fairy Books, which featured illustrations by Henry Justice Ford (1860–1941). Ford, a prolific and successful English artist and illustrator, captured the imagination of children around the world through his collaborations with not only Lang, but J.M. Barrie (Peter Pan), too.
Lang and Ford's Fairy Books became a sensation among British schoolchildren and were sold internationally. Lang selected and edited 25 collections in total, beginning with the Blue Fairy Book in 1889 and ending with The Strange Story Book in 1913. Of those 25 books, 12 became a special series known as Andrew Lang's Fairy Books of Many Colours, with each book named for the colour of the featured fairy.
Our Olive Fairy journal reproduces the front cover of Lang's Olive Fairy Book. Published in 1907, it included stories such as "The Golden-Headed Fish" and "The Prince and the Princess in the Forest." The stories were gathered from places like Turkey, India, Denmark, Armenia and the Sudan. Here, Ford's Olive Fairy illustration offers a botanical and almost insectile quality that gives her a sense of scientific realism as well as fey possibility.
May the Olive Fairy bring a hint of vintage whimsy to your writings.
---
Product Information
FORMAT
Pencil Case
SIZE

Width: 220mm (8¾")

 

Height: 30mm (1¼")

 

Depth: 68mm (2¾")

INTERIOR
N/A
CLOSURE
Wrap
COLOUR
Green
MORE FEATURES

Interior storage box
Paperblanks bookmark

About These Features
MATERIALS

Threaded stitching and glue, as needed
Decorative printed cover paper
More of our Paperblanks collections visit here.