Description
Miguel de Cervantes Saavedra (1547–1616) is widely regarded as the greatest writer in the Spanish language and admired as one of the world's preeminent novelists. His best-known novel, Don Quixote, has been translated into over 140 languages and dialects, making it, after the Bible, the most translated book in the world.
Born in Spain, Cervantes was forced into exile in 1569 and relocated to Rome, where he worked as chamber assistant to a Catholic cardinal. There he surrounded himself with Renaissance art, architecture and poetry – all influences that can be seen in his later work. In Rome, he enlisted as a soldier in the Spanish Navy and continued his duties until being captured by Barbary pirates in 1575. After five years in captivity, he was released on ransom and returned to his family in Madrid.
There is little doubt that Cervantes' own adventures greatly inspired the intrepid quest of The Ingenious Gentleman Sir Quixote of La Mancha or, more simply, Don Quixote. The two-part novel tells the adventures of nobleman Alonso Quixote, who loses his sanity after reading too many knightly romances and undertakes to revive a sense of chivalry in his country. The novel gives the original meaning to the term "quixotic" – Don Quixote's quest is perhaps unrealistic and impractical, but admiringly idealistic.
In fact, the adventure wasn't over for Don Quixote when the story ended. Perhaps eager to avoid any setbacks in publishing his great work, Cervantes wrote to the king requesting permission to publish, yet that process was just as much of an ordeal for Cervantes as was writing the original work. Don Quixote, Part I was published in Europe by bookseller Francisco de Robles in early 1605, with 400 first edition copies sent off to the Americas in hopes of securing a publishing deal in the New World. Few books survived the trip, as many were sunk in a shipwreck near Havana while the rest fell into the hands of pirates – who issued their own derivative editions without paying royalties to Cervantes.
A Western literature classic, Don Quixote is considered the first modern novel and, to many, the greatest work of fiction ever written. Certainly to the people of Spain and Spanish speakers around the world, Cervantes' influence has been so great that the language itself is often called "la lengua de Cervantes." Many – if not all – of Cervantes' original manuscripts are now lost, so we are honoured to be able to share this handwriting sample, from the letter he wrote to the king, on this journal cover.
About this Design
Original Art: 

Letter handwritten by Cervantes

Era: 

Early 1600s

Region: 

Spain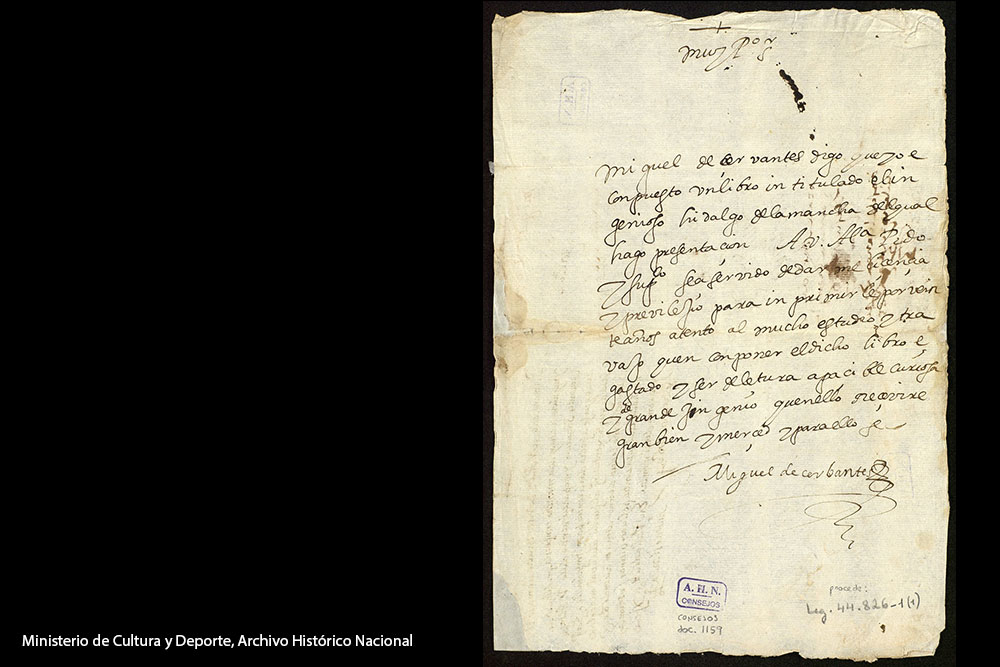 Product Information
FORMAT
SIZE

Width: 130mm (5″)




Height: 180mm (7″)




Depth: 22mm (¾")

INTERIOR
Lined
PAGE COUNT
144 Pages
CLOSURE
Wrap
COLOUR
Brown
GSM (PAPER WEIGHT)
120
COVER
Hardcover
MORE FEATURES

Smyth sewn
Satin ribbon marker (grandes have two)
Memento pouch
Custom-designed laid paper

MATERIALS

100% recycled binder boards
FSC-certified text paper
Threaded stitching and glue, as needed
Acid-free sustainable forest paper
Decorative printed cover paper