Description
The original leather binding reproduced on this cover was made around the turn of the 19th century in the city of Urbino, the picturesque capital of the Marche region of Italy. It contained a religious treatise translated from French into Italian by Princess Maria Anna Matilde, whose husband was the lord of the city.
In the late 15th century during the rule of Federico da Montefeltro, who earned himself the moniker "the Light of Italy" for his support of arts and sciences, Urbino blossomed as a hub of cultural and commercial activity. Perched idyllically on a hillside, its ancient city wall and medieval buildings are still standing and the original winding cobbled streets are largely intact. Urbino is now a protected UNESCO World Heritage site where one can appreciate the elegance and glory of Renaissance architecture.
Our Duomo design was inspired by Urbino's cathedral, "Duomo" meaning "cathedral church" in Italian. After suffering serious damage in the wake of a powerful earthquake in 1789, the structure was rebuilt in a Neoclassical fashion, identifiable by its clean lines and overall restraint of design. One can observe a similar quality in the ornamental scroll of this book cover, where balance is achieved between the patterned stamping and understated opulence of the embossed gilt.
The ideals cultivated during the Renaissance continue to have a strong influence on Western society. It is our honour to dedicate the Jewel of Urbino series to a city that provided such a nourishing environment for the cultural regeneration of Europe.
About This Design
Original Art: 

Ornamental leather book binding

Era: 

early 1800s

Region: 

Urbino, Italy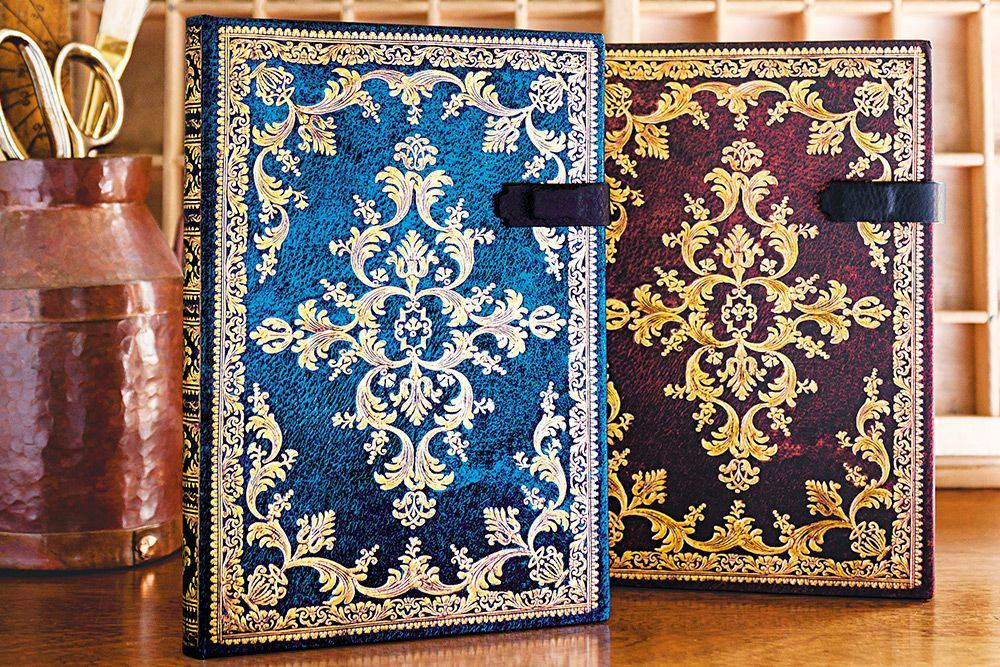 Product Information
FORMAT
SIZE

Width: 130mm (5″)




Height: 180mm (7″)




Depth: 22mm (¾")

INTERIOR
Lined
PAGE COUNT
144 Pages
CLOSURE
Strap
COLOUR
Brown
GSM (PAPER WEIGHT)
120
COVER
Hardcover
MORE FEATURES

Smyth sewn
Satin ribbon marker (grandes have two)
Memento pouch
Custom-designed laid paper

MATERIALS

100% recycled binder boards
FSC-certified text paper
Threaded stitching and glue, as needed
Acid-free sustainable forest paper
Decorative printed cover paper