Description
The timeless beauty of an antique leather journal is brought into the present on the cover of this intricately embellished, leather-like cover.
For our Black Moroccan design we were inspired by one of the softest, most pliable forms of leather. Since the late 16th century, fine Moroccan leather has been valued for use in luxury bookbindings due to its strength and ability to show off gilding. With a delicate foliage pattern set against a rich dark brown background, this design pays homage to the craft of gold tooling, originally brought to Europe via the flourishing trade routes to the East.
When we were first beginning to make Paperblanks journals, we found a piece of William Shakespeare's handwriting and just knew it could become an inspiring journal cover. Soon we added designs featuring the writing of Ernest Hemingway and Jane Austen and created a series that would become our Embellished Manuscripts Collection. These first covers were minimalist designs with the literary manuscripts written in black ink against beige paper. Eventually, our creative urges started to take over and we sought to play around with the design by adding a gold frame.
Working from a photograph of a small piece of gorgeous gold embellishment, our Art Director created a full frame for the Shakespeare manuscript and highlighted it with a burnt orange background. Of course, our curiosity for what could come next didn't stop there! By removing the manuscript we immediately saw the possibilities for a design inspired by classic Renaissance leather bindings. And thus, our foundational Old Leather Collection was born.
These days we are free to play around with frame shape and background colour, and this initial beige and black design continues to provide the backbone for two of our most enduringly popular collections.
Available Sizes:
Midi – Lined – Elastic band – 240 pages
About this Design
Original Art: 

Gold-tooled leather bindings

Era: 

Contemporary art in a Renaissance style

Region: 

Made in Canada with a European influence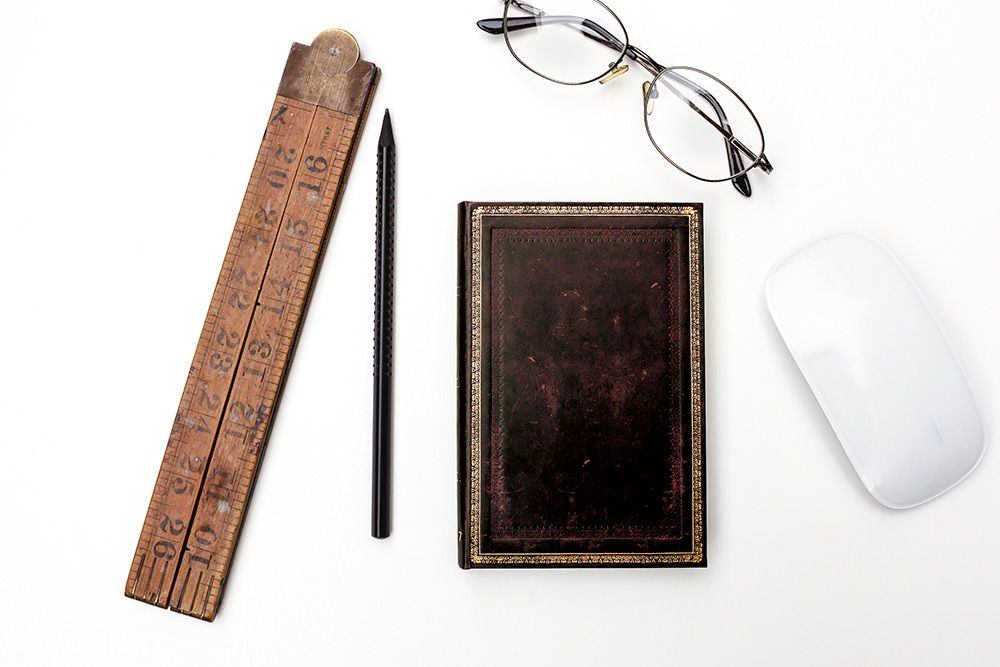 ---
Product Information
FORMAT
Midi
Size

Width: 130mm (5″)




Height: 180mm (7″)




Depth: 26mm (1″)

INTERIOR
Lined
PAGE COUNT
240 Pages
CLOSURE
Elastic band
COLOUR
Brown
GSM (PAPER WEIGHT)
120
COVER
Hardcover
MORE FEATURES

Smyth sewn
Satin ribbon marker (grandes have two)
Memento pouch
Custom-designed laid paper

About These Features
MATERIALS

100% recycled binder boards
FSC-certified text paper
Threaded stitching and glue, as needed
Acid-free sustainable forest paper
Decorative printed cover paper