Description
About This Design
Original Art: Claude Monet's Japanese Footbridge, Giverny and handwritten letter to Berthe Morisot
Era: 

Late 1800s

Region: 

Giverny, France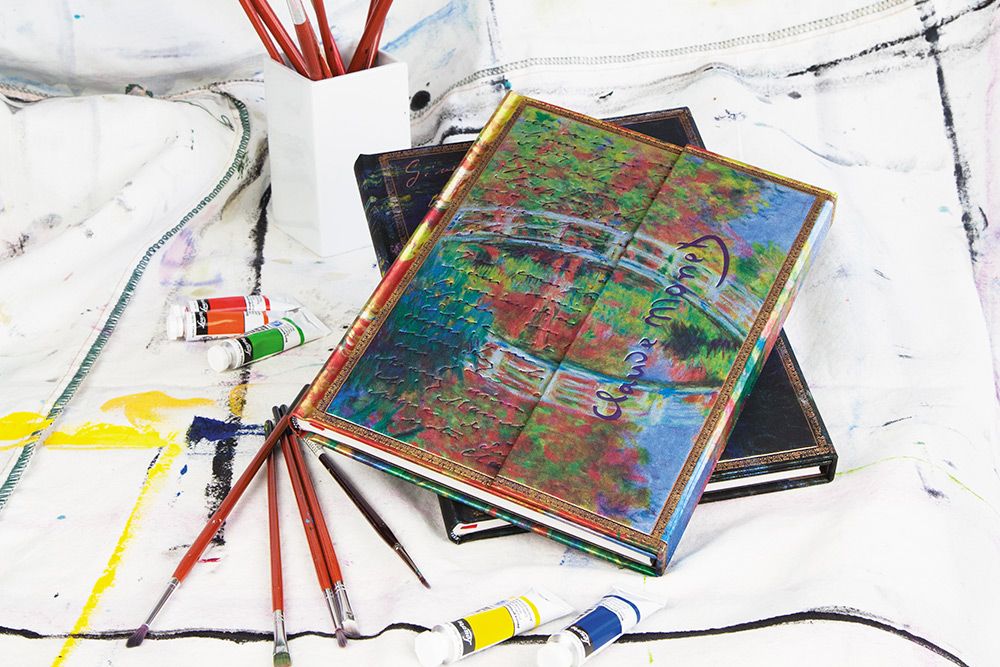 Claude Monet (1840–1926) belonged to the group of artists who gave birth to the influential Impressionist art movement. In fact, the very name of the movement comes from the title of Monet's oil painting Impression, soleil levant (Impression, Sunrise). When a less-than-impressed critic attended an 1874 art show featuring the subversive art of Monet and his associates, the critic coined this term and used it as a gibe at Monet's manner of painting. Of course, the rogue artists were only too happy to embrace it as the name for their movement.
The term "Impressionism" reflects these artists' focus on the effect that light has on colours and the transient quality of the visuals surrounding us. Monet was especially eager to capture and communicate this on his canvas. After he purchased a property in Giverny, a town just outside of Paris, Monet blended his artistry with another one of his passions, botany.
His new property boasted a fabulous garden and Monet took to painting in this natural setting. In the middle of the 19th century, at the time when few artists could fathom painting outside of a studio space, his "en plein air" style marked him as a maverick. Given the hundreds of works Monet composed in his Japanese garden at Giverny, it remains one of the most prolifically captured outdoor spaces in contemporary art.
With this cover we have reproduced Japanese Footbridge, Giverny (1895), a scene Monet painted in many different renditions over the years.
Instead of the deeper hues of green that inhabit many of his bridge pictures, descriptive of a mature season, this painting employs radiant colours that suggest a point of seasonal transition. Embellished with a handwritten letter to his fellow Impressionist Berthe Morisot, this vivid cover brings a sense of joy and growth to our collection.
Product Information
FORMAT
SIZE

Width: 180mm (7″)




Height: 230mm (9″)




Depth: 22mm (¾")

INTERIOR
Unlined
PAGE COUNT
144 Pages
CLOSURE
Wrap
COLOUR
Multicolour
GSM (PAPER WEIGHT)
120
COVER
Hardcover
MORE FEATURES

Smyth sewn
Satin ribbon marker (grandes have two)
Memento pouch
Custom-designed laid paper

MATERIALS

100% recycled binder boards
FSC-certified text paper
Threaded stitching and glue, as needed
Acid-free sustainable forest paper
Decorative printed cover paper