Description
The 19th-century binding recreated on our Gold Inlay bookmark was composed of solid metal covered with a fine layer of gold and engraved by skilled craftsmen. A strong archetype of the German Neo-Renaissance style, the original book design was likely a replica of a 16th-century cover.
Bookmark (1½" x 7″)
Double-sided designs
Textured printing
Rounded edges
Subtle Paperblanks branding
About This Design
Original Art: 

Solid metal book binding

Era: 

Neo-Renaissance

Region: 

Germany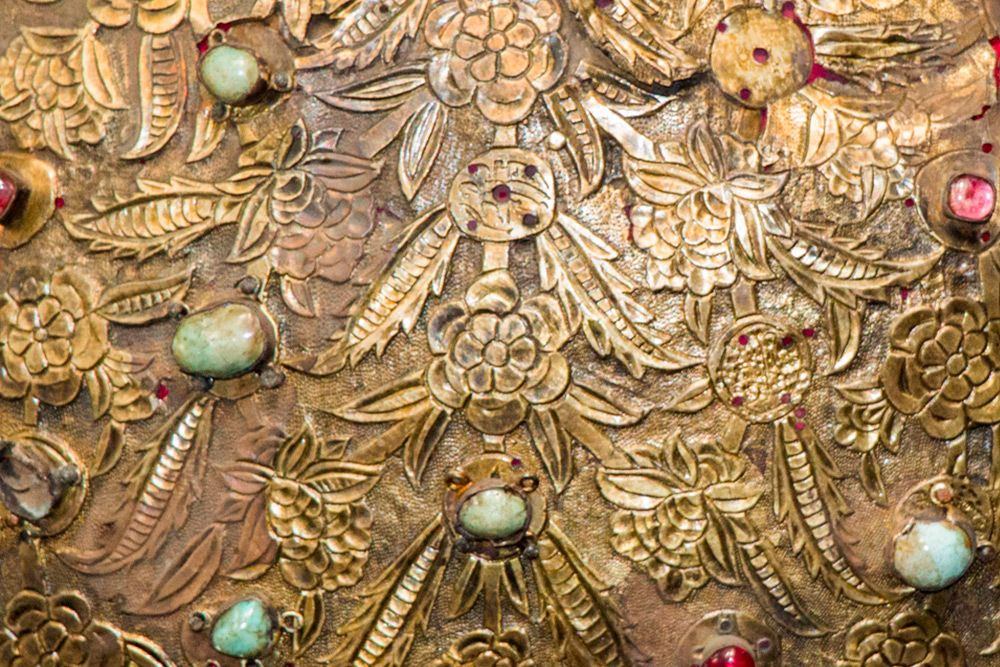 Here at Paperblanks our experience with vintage book bindings has taught us this: the history of bookbinding is one of adaptation. Many a design in the Paperblanks collection is an example of a decorative technique that was successfully evolved by bookbinding masters to spur a new trend in book cover embellishment.
Our Gold Inlay design replicates a book cover that captures a certain point in the evolution of one such technique, "cloisonné." It's a traditional way of decorating metalwork objects where the craftsman forms individual compartments on the object's surface by arranging metal strips or wire. The bookbinder then inlays the pattern with precious materials, such as cut glass or gemstones, or fills these cells with enamel paste and kilns it to make it bond with the metal base.
The magnificent prototype for our Gold Inlay design is a late 19th century German binding made of metal with gold plating. The intricate pattern fashioned onto the gilded surface is a combination of the finest engravings and delicate enamel inclusions. Up until then, these methods had been more customary for decorating jewellery, metal details on clothes and weaponry. By the 19th century, as more people were becoming literate and the demand for books grew, commissioners sensed that elegant bindings would sell more books and encouraged binders to revisit traditional decorative techniques. In Germany, this trend led to the development of a distinct, eclectic style called "Stil der Neorenaissance," which was to a large degree inspired by the artistic traditions of the Renaissance.
If you are a fan of the BBC series Downton Abbey, you may be pleased to know that a Gold Inlay journal made it into the series' set decorations. The style of the design was indeed highly popular all through the late 19th and early 20th century, which means that it was an apt choice for a set design of the story unfolding in the period leading up to World War I and later. We, in turn, found this to be a great compliment to our efforts to create journals that are true to the original art inspiring our cover designs.