Description
Fire Flowers
Brilliant fireworks are conjured up by this magnificent binding that originally covered La Déclamation Théâtrale (1766), a didactic poem by the prolific Claude J. Dorat. Though Dorat's legacy is not that of a major master, one cannot help but admire his incandescent desire to create.
About This Design
Original Art: Binding of La Déclamation Théâtrale
Era: 

1766

Region: 

Paris, France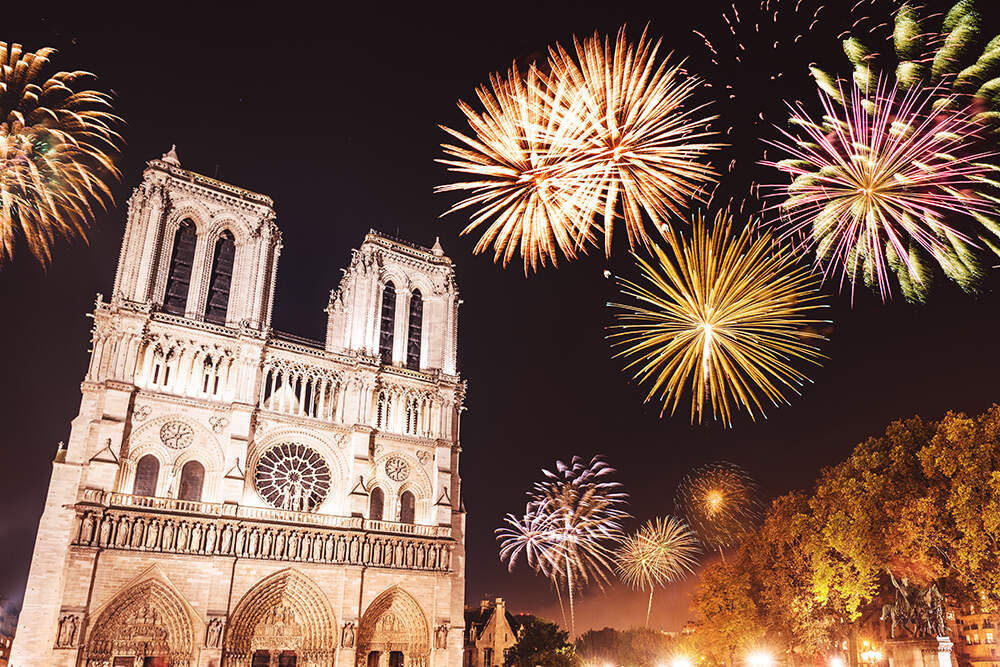 A display of brilliant fireworks is called to mind in our Fire Flowers design.
This cover reproduces a 20th-century binding of Claude J. Dorat's La Déclamation Théâtrale, which was originally published in 1766 in Paris. Our cover edition, crafted by the bookbinder P.A. Savoldelli at the Hampstead Bindery, is currently held in the British Library's magnificent collection of antique bindings.
The scion of a wealthy French family, Claude Dorat (1743–1780) turned away from an expected career in law for a life in the arts. Also known as "le Chevalier Dorat," he was renowned as a musketeer, a bon vivant and a "petit maître" (minor master) by his contemporaries. La Déclamation, edited by Sébastien Jorry, is written in the style of Boileau and has become the defining work of Dorat's prolific career. It is a didactic (instructional) poem comprising four songs about the rules governing tragedy, comedy, opera and dancing.
Dorat was frequently scorned by critics but persisted in producing an explosion of madrigals, odes, epistles, poems and erotic stories. He was rumoured to have ensured the success of his plays by buying up all the seats with his own money and he died, penniless, in 1780 after squandering his family fortune. Though his legacy is not that of a major master, one cannot help but admire his incandescent desire to create.
---
Product Information
FORMAT
Pencil Case
SIZE

Width: 220mm (8¾")

 

Height: 30mm (1¼")

 

Depth: 68mm (2¾")

INTERIOR
N/A
CLOSURE
Wrap
COLOUR
Brown
MORE FEATURES

Interior storage box
Paperblanks bookmark

About These Features
MATERIALS

Threaded stitching and glue, as needed
Decorative printed cover paper
More of our Paperblanks collections visit here.